SWORD HEALTH
NEW BENEFIT – SWORD HEALTH DIGITAL PHYSICAL THERAPY – 
Introducing Sword, a (free!) digital Physical Therapy program that provides treatment for all musculoskeletal issues, including your back, shoulders, neck, hips, knees, elbows, ankles, or wrists. The Sword program is done from the comfort of your home (or wherever is most comfortable to you), which means you have the chance to overcome joint or muscle pain without the hassle of traditional physical therapy appointments, travel time or waiting rooms. And now, thanks to your health benefits, it's available to you at no cost!
If you're ready to make discomfort a thing of the past, and start living life comfortably, Sword could be the solution for you.
> Sword is done 100% virtually wherever you're most comfortable, whether that's at work, a hotel room, or your own living room!
> Once your Sword kit arrives at your doorstep, you'll have everything you need to get started — including motion trackers and a Digital Therapist tablet.
> You even get to choose your own dedicated Physical Therapist (PT) who will work with you to customize a program based on your personal symptoms and goals.
>Not only will your PT track your progress and correct your form in real time, but they'll be there to support you any time you need it, from day one until you find relief from pain.
Learn more at: http://join.swordhealth.com/local22/aware
FAQ:  SwordHealth FAQ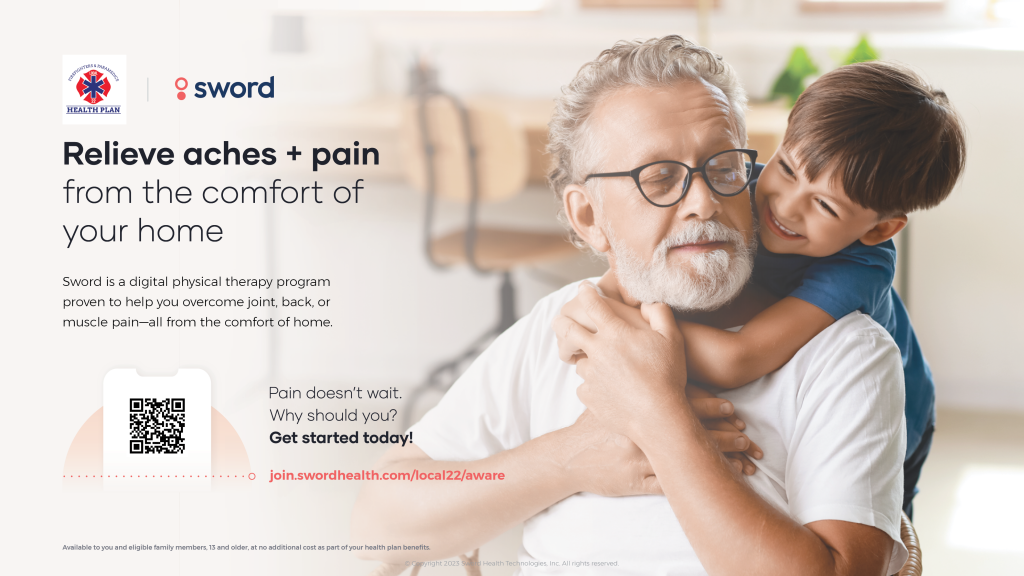 Sword Health _Flyer  –  sword health flyer